Zircon Sand Pricing Update
During the course of 2019 the price of zircon sand reduced from USD 1660/mt to USD 1550/mt CIF China, a reduction of around 7%. Prices at the start of 2020 have been fairly flat with some reduction to USD 1450-1500/mt CIF China during the build up to Chinese New Year. This is thought to be down to high inventory levels and also weak demand from the domestic ceramics market in China. Tiles, sanitary ware and table ware makes up over 50% of the demand for zircon sand.
It is expected that pricing of zircon sand is going to firm during 2020 as output and demand reach an equilibrium of 1200kts per year. Going forward an increase in demand is forecast at 2-3% per year at a time when there is a lack of high quality mineral projects, particularly zircon focused. This is expected to put upward pressure on zircon pricing later in 2020 and beyond.
Zircon Sand Pricing 2019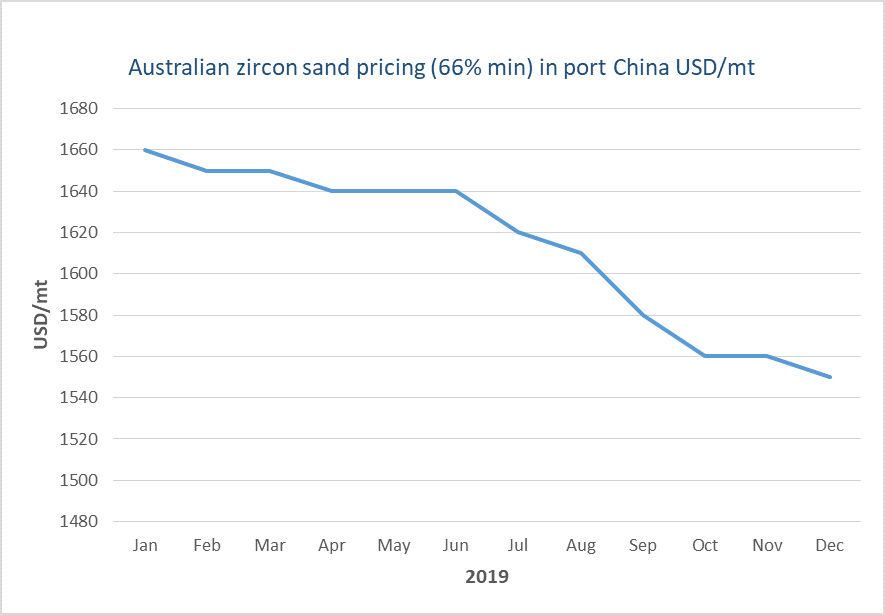 Zircon sand is the starting raw material for the majority of zirconium products, including zirconium oxychloride, zirconium basic carbonate, zirconium sulphate, zirconium oxide and stabilised zirconia powders.
Date : 24-02-2020