Welcome to Zircomet
Zircomet Ltd is a company dedicated to the product development, production and distribution of zirconium based materials for advanced global technologies.
Head-quartered out of Cambridge, England, Zircomet has a global network of strategic partners that enable it to offer the most comprehensive range of zirconium chemicals and zirconium oxide within the industry.
Zircomet works with suppliers of raw materials and finished products from China, Africa, USA and Europe and supplies a customer base covering over 25 countries.
Zircomet is a forward thinking, flexible and responsive business with customer and supplier collaboration at the core of its business model. With a global presence, Zircomet is waiting to serve your zirconium product needs.

Key Industries Supplied
The versatility of zirconium based materials has led them to be used in a wide range of industries and they are finding increased application in technically demanding applications, particularly high temperature environments.
These are some key industries we supply into...
Contact Us
Tel: +44 (0)1223 297533
Email: enquiries@zircomet.com
Worldwide Network
We have an international network of suppliers and business partners that help us serve our global customer base.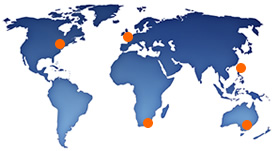 Warehousing
We stock our key zirconium products in strategically placed warehouses to minimise lead times.
Click on the flags for materials stocked.